Time stood still as we explored the Morning Glory kitchen. As we learnt about the ingredients, cooking methods, and traditions, the most beautiful and fascinating culinary landscape was painted, reminding me exactly why I pursued a degree in nutrition: to unravel the unique and intricate relationship between food and culture.
This recipe is straight from Ms Vy because that is how it's intended to be recreated. It's an authentic dish, with no need to glamorize ingredients or complicate something so beautifully simple. It's forgiving, fulfilling and the perfect balance of taste and tradition.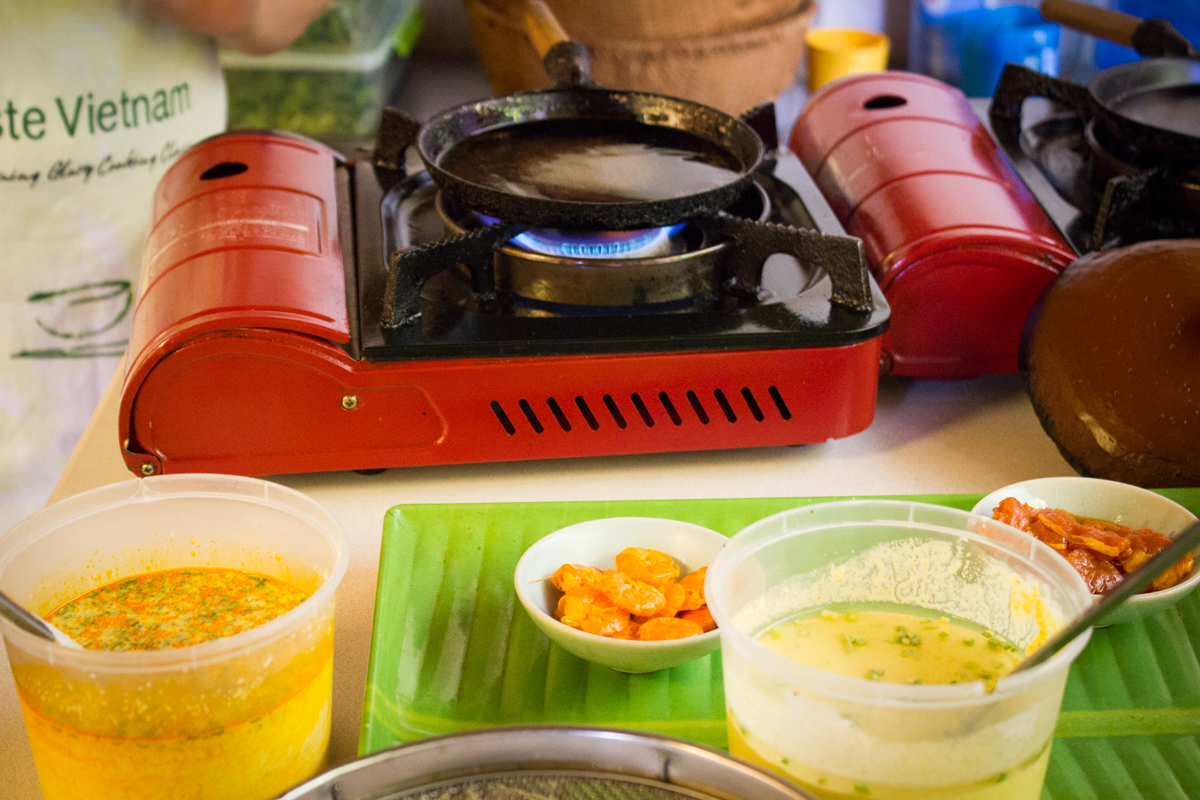 Since I mentioned simple: This cheery crepe does require some forethought for soaking rice and mung beans. If that doesn't appeal to you, check your Asian grocer to see if they carry banh xeo baking mix.
Traditionally this little crepe is consumed in the winter time, however we visited in the summer and it was always easy to find on the menu and nobody seemed to judge when I ordered it multiple times a day. It was perfectly versatile for even the stickiest of days, light enough on it's own or begging to be packed with fresh green veggies and herbs.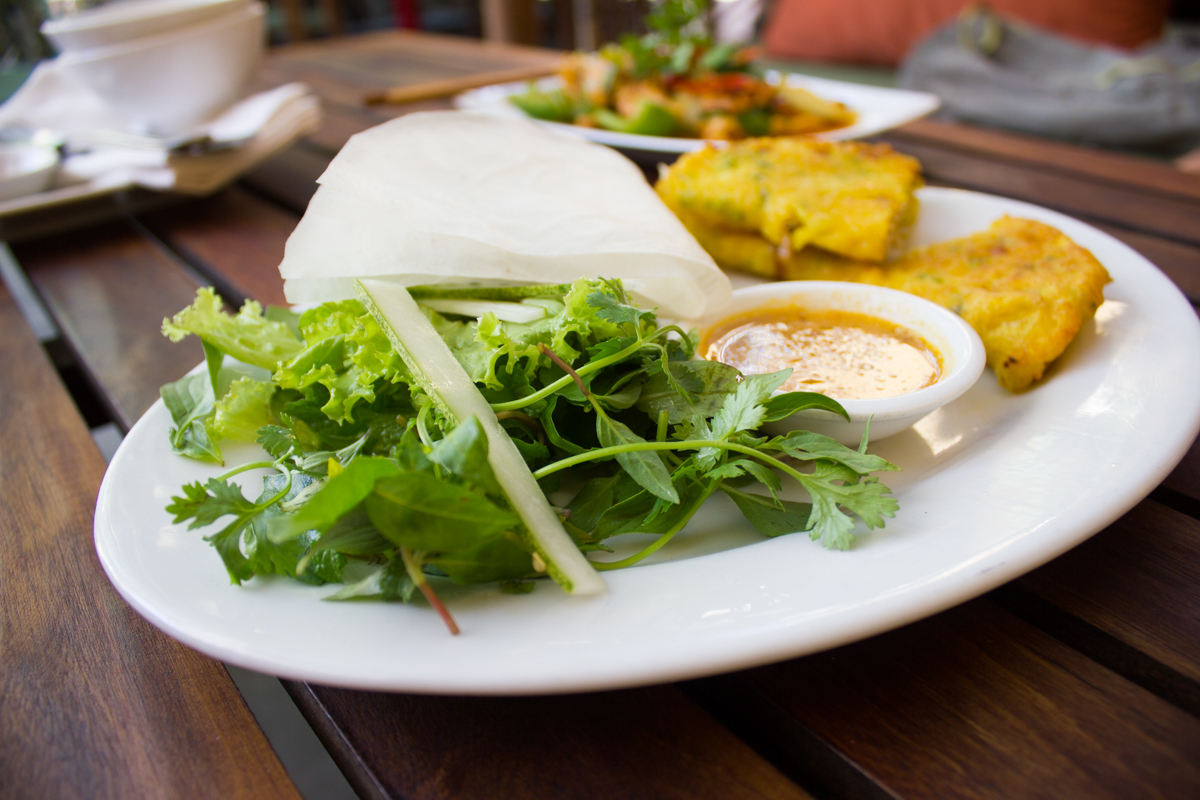 Add a little kick with some spicy peanut sauce served alongside to accentuate this perfect marriage of soft and crunchy.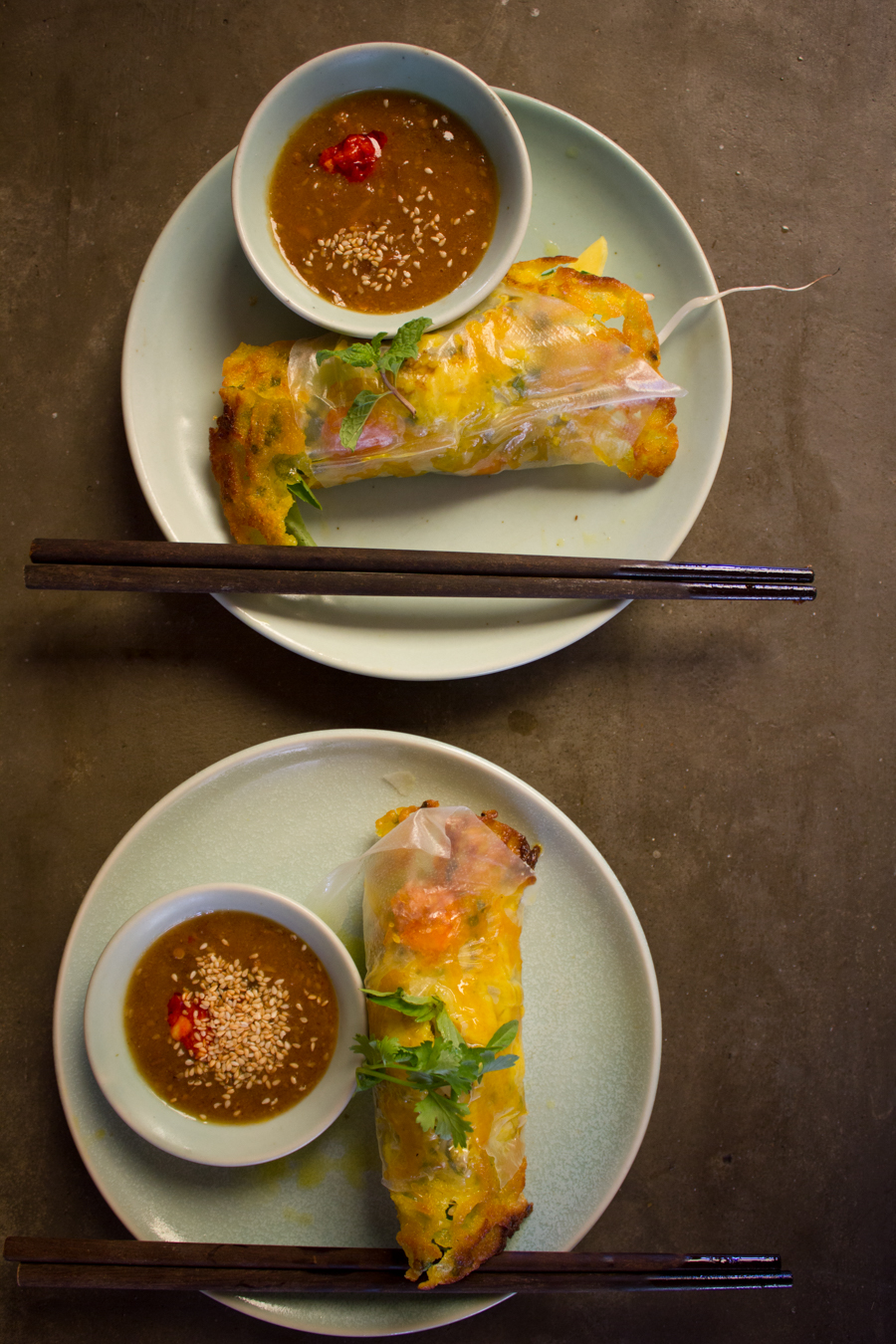 Ingredients:
1/2 cup long grain rice
1/2 cup mung beans
1/4 tsp turmeric
1 tbs green onions, sliced finely
1/4 coconut cream
8 tbs vegetable oil
16 slices pork shoulder, sliced finely
16 baby shrimps, shell on
6oz bean sprouts
8 sheets rice paper
2 cups mixed herbs
8 green banana slices
8 star fruit slices
3 tbs sweet and sour or peanut dipping sauce
Instructions:

PREP:
Soak rice in water overnight. In a separate bowl, soak mung beans in water overnight.
PREPARE:
Rinse rice well and drain. In blender, add 1 cup of water to rice and blend until smooth liquid forms. Set aside in container.
Rinse mung beans well and drain. Add 1/2 cup water and blend until smooth liquid forms.
Mix the 2 batters together and add turmeric, green onions and coconut cream. Stir well to combine.
On small wok or frying pan, heat 1 tsp oil. Put 2 slices of pork on hot pan and cook 10 seconds each side. Place shrimp on other side of pan.
Ladle in a small amount of batter mix and tilt pan to distribute evenly. Fry for 3-4 minutes until lightly colored and crispy.
Place a handful of bean sprouts on one side of the pancake (this will be the bottom). Fold opposite (top) side over, creating a half-moon shape.
Continue cooking 1-2 minutes on each side. Repeat with the remaining batter to make ~8 pancakes. Keep warm.
Serving Suggestion: Serve on sheet of softened rice paper with handful of herbs and greens, star fruit and green banana. Can be rolled up and eaten as finger food. Enjoy alongside peanut sauce.
Total Time: Overnight soaking required. Cook Time: 15 minutes
Yield: 4 servings.
Source: Morning Glory Restaurant and Cooking School
SaveSave
SaveSave