ESCAPE IN TULUM
Our search for adventure, peace and
tranquility on the Yucatan Peninsula.
By JAMES MCINTOSH
It was December and it had been a long year. Our jobs had been crazy. We'd been working long hours week after week and it had been months since we last took a break. We needed to get the hell away, but not just away. We needed to get to a place that felt different. So different that we could forget about the worries of work and life. A place where we could play and explore, but also recharge and relax.
We chose Tulum. We'd seen the photos of the stunning cliff top Mayan ruins on the ocean's edge and read the articles about the warm azure water of the Caribbean Sea. We also knew it was time to visit Tulum before it was too late. Before the small, peaceful coastal town became an overrun tourist trap like Cancun to the north.
So, we packed our bags and went. And as always, planned an overly aggressive itinerary in an attempt to pack in every site and activity that caught our eye. We always like to structure our trips the same: explore and play until we collapse; then spend the final days relaxing, recharging and preparing to return home.
Our trip to Tulum was no different. We couldn't wait to explore the Mayan ruins of the Yucatan Peninsula, swim in the beautiful underground cenotes, dine in Tulum's renowned restaurants, take yoga classes and relax on the beach.
Palm trees in the wind on the edge of Tulum Beach.

The Coba archeological site.
The plan was to save our relaxing beach days for the end of the trip. So, after landing in Cancun and sharing a taxi ride down the coast to Tulum our first order of business was to figure out the best way to visit the Mayan ruins of Coba and Chichen Itza.
After weighing all the options, we chose to take the local ADO Bus rather than book an organized tour. If this trip was supposed to be about escaping and getting away from it all, the last thing we wanted was to be crammed into a minivan with a bunch of obnoxious American tourists.
The next morning, we boarded the ADO bus in the middle of Tulum town and an hour and a half later arrived at the once powerful Mayan city of Coba.
Coba is a 26-square-mile archeological site crisscrossed with limestone roads, littered with fascinating ruins and featuring three impressive pyramids. Ixmoja is one of the tallest pyramids on the Yucatan Peninsula, and unlike the well-known pyramid in Chichen Itza, visitors can climb the 130 steps to the top.
We paid for a guided tour of the site, since understanding the history of the pile of rocks in front of you makes visiting ancient ruins a hell of a lot more interesting and enjoyable. We'd recommend doing the same. Guides can be arranged once you're inside the ruins, so don't bother waiting in line outside the gate.
// A bonus of heading to Coba for the day are the nearby cenotes.
We rented pedal bikes from a stand just outside the gate of the ruins and biked to a group of three secluded cenotes about 2 miles away. They were practically deserted. It's pretty magical hanging out in an underground cenote without anyone else around. It's a big contrast to the popular, tourist-packed Il Kil cenote near Chichen Itza.
Swimming in Cenote Choo-Ha near Coba.

After thoroughly enjoying our day visiting the ruins of Coba, we couldn't pass up the opportunity to see the granddaddy of them all, Chichen Itza.
Chichen Itza isn't exactly close to Tulum, so if you're not ready to spend a decent amount of time traveling out to see the ruins, just visiting Coba might be enough to satisfy your appetite. We conveniently made the trek out to Chichen Itza on an overcast day, so we didn't sacrifice any precious beach time.
Once again, we opted to take the ADO Bus rather than cram into a minivan full of tourists. If you choose to take the bus, it doesn't go all the way to the ruins and instead drops you off in the city of Valladolid. Once in Valladolid it's easy to catch a taxi colectivo from town out to Chichen Itza.
We took the first bus of the day from Tulum to Valladolid, which gave us some time in the morning to get breakfast and explore the city before heading out to the ruins.
Chichen Itza was one of one of the largest Mayan cities. The archeological site is massive, and the ruins and preserved architecture are awe-inspiringly impressive. With that in mind, be warned, Chichen Itza is also one of the most visited archeological sites in all of Mexico with more than 2.5 million visitors annually. Compared to Coba, it is crowded and frequented by the hordes of tourists staying in Cancun.
El Castillo, Chichen Itza.
Exploring Chichen Itza.
// Despite the crowds, it's undoubtedly a site worth seeing.
We paid for a guided tour once again, so we could understand the history and context of what we were seeing. There's a short tour and a long tour. We'd recommend the short tour, because it's cheaper and gives you plenty of information to understand the significance of the archeological site.
Only a stone's throw away from Chichen Itza is the famous cenote Il Kil. We stopped by the cenote on the way back to Valladolid. Il Kil is worth the stop, just to check it out, but the place is packed full of tourists floating in life jackets and definitely not the tranquil and dramatic cenote you pictured in your mind.

Mr. Blackbird boutique shop on Beach Road, Tulum.
With our long day trips behind us, we quickly turned our attention to slowing down the pace, spending time in cabanas by the turquoise ocean and exploring Tulum's Beach Road.
If you're staying at a hotel on the beach, the best way to explore is to rent bikes and leisurely peddle up and down Beach Road, checking out the trendy restaurants, boutique shops and beautiful ocean views.
Tulum's famous cliff-side archeological site is located at the northern end of Beach Road. Since the site is located so close to all the beach-front hotels, the ruins get busy pretty quickly. It's best to try and visit in the morning right when they open. It won't be as hot, and the crowds will be much smaller.
Heading south, Beach Road is scattered with luxurious eco-friendly resorts, restaurants, bars and trendy shops selling the latest in luxe-hippie and bohemian style. Our personal favorite shops were Wildsea and Mr. Blackbird.
// As you peddle further south the restaurants and shops start to thin out,
but there's one well-known attraction that's worth the trip: Casa Malca.
Casa Malca is a beachfront estate once owned by infamous drug-lord Pablo Escobar. Abandoned in 1993 and rediscovered in 2003, the property has been renovated and turned into a luxury, boutique hotel by New York-based art dealer Lio Malca.
The estate and art collection are stunning, and even though it's private property, anyone can check it out by making a reservation at the hotel's restaurant. If you don't want to spend money on an expensive meal, make a reservation for happy hour.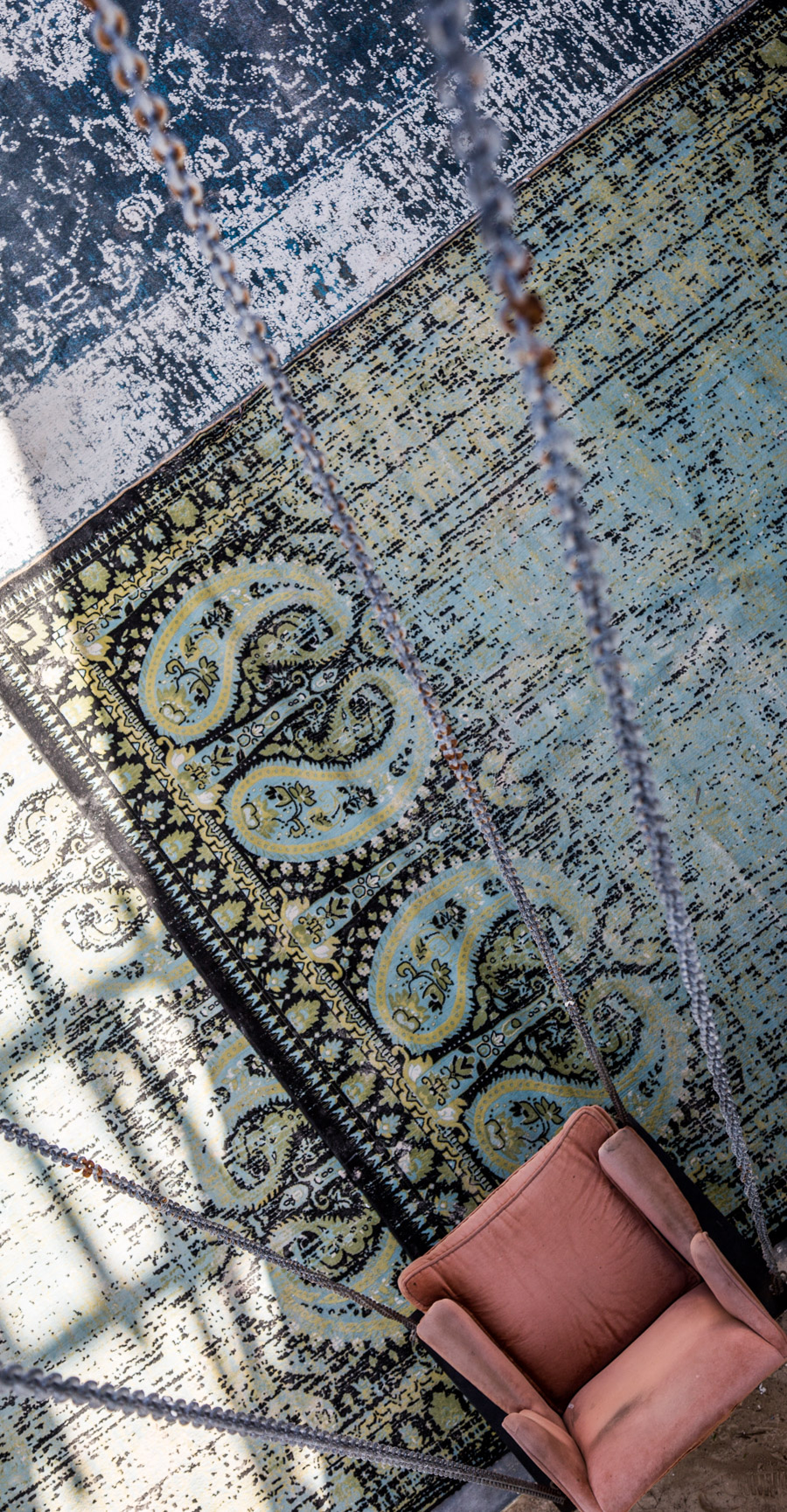 The entrance to Casa Malca.

Tulum is becoming more and more well-known for its developed culinary scene. Beach Road is home to a variety of high-end, hip restaurants that serve incredibly well-prepared food at a reasonable price by U.S. standards. Some popular dinner spots include: Casa Jaguar, Mur Mur and Gitano.
For lighter, mid-day snacks there's a plethora of quirky fruit stands and cafes that offer superfood smoothies, acai bowls, raw vegan snacks and fresh juices.
We tried a variety of food stands, cafes and restaurants during our trip.
// Here are a few of our favorites.
Hartwood
Probably Tulum's most famous restaurant, Hartwood lives up to the hype. Founded by a husband-wife team from New York, the restaurant is set back in the jungle and completely open-air. Almost all food is cooked on a massive wood-burning oven and grill that gives a unique, flavorful taste to the tender meats and roasted vegetables that headline the menu. The menu itself changes daily based on what's available locally on land and in the sea. If you want to avoid a long wait, reservations are a must.
Taqueria La Eufemia
Really the only budget-friendly option on Beach Road, Taqueria La Eufemia is everything you dream about when imagining yourself sitting on a Mexican beach. A taco stand situated on top of the bright white sand with waves cashing up to its deck chairs, La Eufemia is a taco-lovers paradise. Cheap beer, stiff cocktails and some of the best street tacos you can find make this taqueria one you can't afford to miss. ———————————————————————————————————————————————
Matcha Mama Tulum
This might be the most insta-famous smoothie stand in the world with its grass thatched roof, hand-painted surfboard signs, bright pink flamingos and rope swinging chairs. Ice cold smoothies and acai bowls served in coconut shells make Matcha Mama the perfect mid-afternoon pit stop on a hot Tulum day. While you're there, don't forget to snap a photo for your carefully curated Instagram feed. ——————————————————————————————————————————————————————–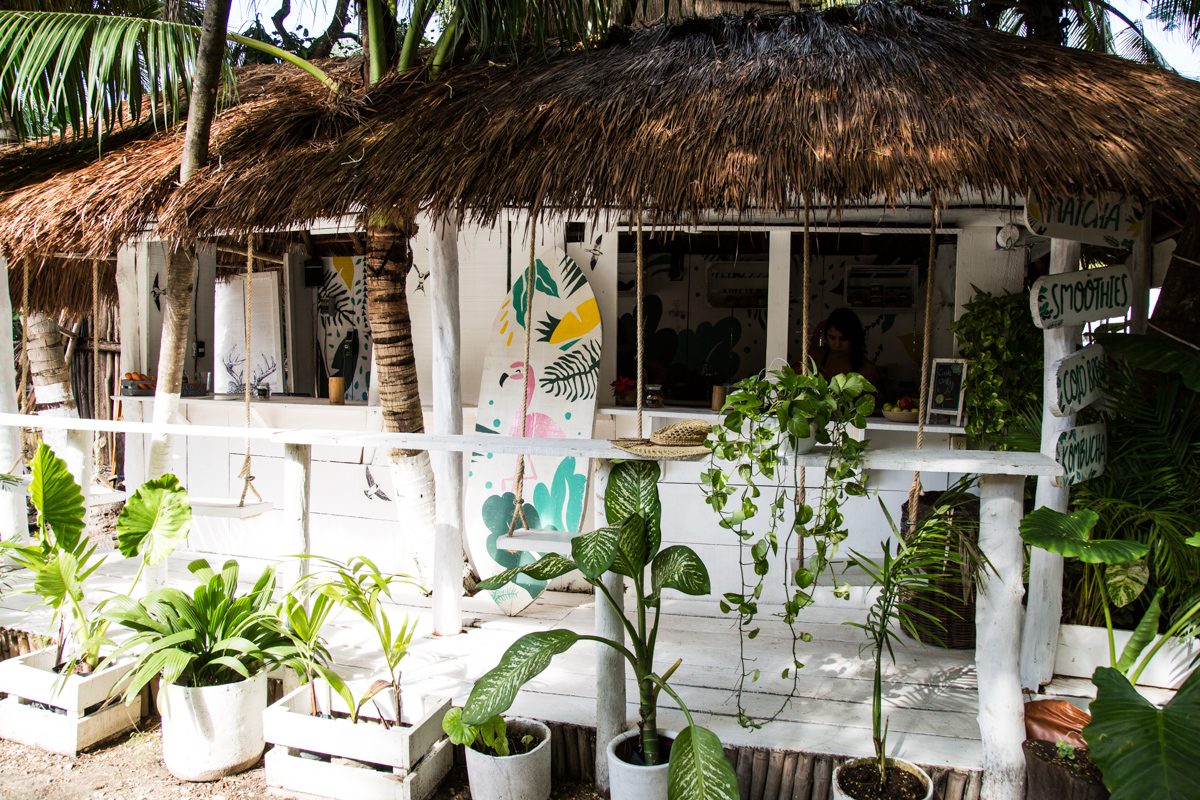 Raw Love
Raw Love Café is heaven on Earth for a vegan, and for those who aren't, you'll quickly learn to be vegan doesn't mean giving up great food. Everything served at Raw Love is free of sugar, dairy, wheat and (except for honey) doesn't include any animal products. Menu items range from living pizza and mushroom burgers to super smoothies and booster shots – all made from scratch each day. If you're in the mood for a mid-day pick-me-up, try one of their scrumptious coconut milk lattes made with organic coffee.
Tulum Town
If you're in the mood for a more traditional and less expensive meal, downtown Tulum is full of budget-friendly places to eat that are only a short taxi ride from the beach.

We usually like to save the best for last, and this trip was no different. I've somehow written more than 1,500 words and haven't yet mentioned the unbelievable white sand beaches and warm blue waters that attract most visitors to Tulum.
Most of the hotels on Beach Road spill right out onto the sand with restaurants and beach clubs that boast panoramic views of the Caribbean Sea. We stayed at Papaya Playa Project in a jungle casita featuring a rooftop private pool with 360-degree views of the surrounding jungle and ocean. We were steps from the beach, and during the last few days of our trip, spent ample time lounging in cabanas drinking ice cold beers and mojitos.
Tarynne enjoyed complimentary yoga classes every morning in an absolutely stunning yoga chalet overlooking the ocean. And on our last day we couldn't resist a couple's massage in a private hut right on the beach.
It might have taken a few days to get the craving for exploration and adventure out of our system, but in the end, we left plenty of time to enjoy the pristine beach and lush jungle that has made Tulum one of the most popular destinations in the world. //
A beach cabana in front of Papaya Playa Project.
IF YOU GO
There is no airport in Tulum, so you'll need to fly into a nearby airport and travel from there. The easiest airport to fly into is Cancun International Airport (CUN), which is about 73 miles north of Tulum.
From Cancun Airport you can get to Tulum by taxi, bus or renting a car. Taking the ADO Bus is the cheapest option, but it requires a transfer in Playa Del Carmen, which is about halfway to Tulum. Traveling by taxi is probably the easiest choice, but it will cost you about $80 USD.
Once in Tulum, the easiest way to get around is by walking, bike or taxi.
WHERE TO STAY
There are a ton of accommodation options in Tulum that range from budget to extremely expensive. If you're looking to save money, it's best to find a place in town and take a taxi when you want to visit the beach.
If you're ready to shell out the big bucks for hotel, getting a spot right on the beach is well worth it. We stayed at Papaya Playa Project and absolutely loved it. Rooms have private rooftop pools with panoramic views of the ocean. The restaurant on property is amazing. On Saturday nights the hotel hosts live DJs and throws full moon parties once per month.
Other popular hotel choices in Tulum include Azulik, Coco Tulum, Be Tulum and Casa Malca.